Archbishop Broglio sent Christmas wishes to all in the Archdiocese for the Military Services, USA via the new AMS Catholic Faith Deployed App. His remarks included gratitude for all who support this new method of evangelization with their prayers and financial sacrifices.
The John Angotti and Friends Christmas Concert from the Cannon Center in Memphis, Tennessee was primarily designed to support Catholic Charities of West Tennessee. Through the generosity of Bishop J. Terry Steib of the Diocese of Memphis and Catholic Charities of West Tennessee the concert was made available as the first live streamed event on the new AMS app. Donations to support the app may be made to UpWord Studios.
Follow the Live Events section of the app to view more initiatives in the coming year. Thanks to all who supported this effort. See two screen shots below from the concert held December 15th.
Archbishop Broglio addresses all at the concert and those watching via Live Stream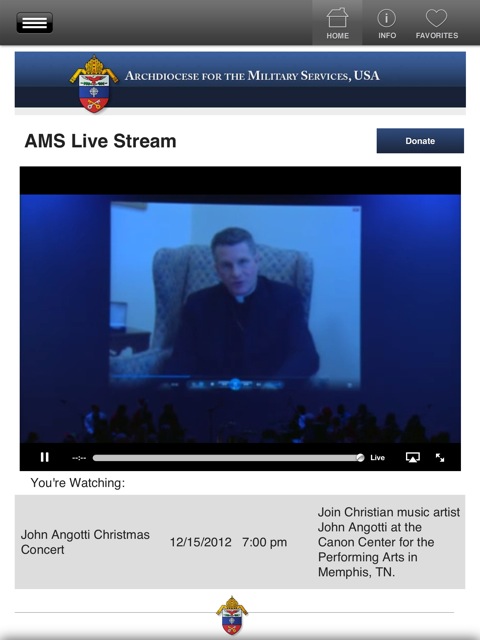 John Angotti leads the choir from the piano while Bishop J. Terry Steib looks on.