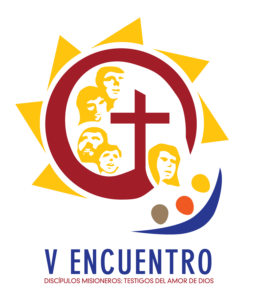 The Archdiocese for the Military Services, USA invites military young adults and families to participate in the Fifth National Encuentro of Hispanic/Latino Ministry (V Encuentro) by taking the online course titled Missionary Disciples: Witnesses of God's Love.  The course will begin on April 23, 2017.
In collaboration with the University of Dayton's Virtual Learning Community for Faith Formation (VLCFF), the Archdiocese has adapted the five-consultation catechesis of the Fifth Encuentro into a five-week interactive online course (English and Spanish). The course will invite participants to prayerfully reflect, to go out to do missionary activity and to provide consultation based upon the following five topics:
Week 1: Called to a Loving Encounter with Jesus in the Church
Week 2: With Words and Actions: Do It!
Week 3: Walking Together with Jesus
Week 4: Bearing Fruits of New Life
Week 5: Celebrating the Joy of Being Missionary Disciples
This course is free and can be used by AMS certified catechists to renew certification.