AMS USA app
Download the AMS USA app for Android and iOS. Keep up to date with daily readings, prayers, and saints along with livestreaming Catholic TV and Radio, special video and audio presentations and more.
Charis Ministries
Charis Ministries is a Jesuit ministry to those in their 20s & 30s offering retreats, leadership development, and formation activities that bring the gifts of Ignatian Spirituality to the lives of young adults. The Archdiocese for the Military Services, USA partners with Charis Ministries. Find out how your installation can become a partner to receive guidance, services, and training from Charis. Contact Casey Bustamante at the AMS Office of Evangelization.
Catholics Seeking Christ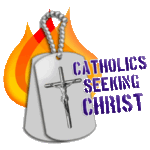 Catholics Seeking Christ (CSC) is a spiritual movement of the Archdiocese for the Military Services, USA. CSC resources encourage young adults in the military to address their spiritual questions, discover their Catholic identity, and connect with the military Catholic faith community. CSC is adaptable, flexible, and deployable. All of the CSC resources may be downloaded for free from the AMS Digital Media Center. There you will find the leader's training videos and training manual along with all of the support resources to encourage your small group to grow in the Catholic faith. Contact the Office of Evangelization if you are interested in learning more or have any questions regarding the CSC resources. Phone: (202) 719-3649 or (202) 719-3648, e-mail:csc@milarch.org.
Young Adult Ministry in a Box
Young Adult Ministry in a Box was designed by Busted Halo and the National Catholic Young Adult Ministers Association (NCYAMA) to empower young adults by offering structures, programs, and best practices so they can build the ministry themselves. It incorporates these elements with the experiences and advice of the most talented young adult ministers in the United States. Young Adult Ministry in a Box is an online subscription to a resource kit that will help you create and sustain a vibrant young adult ministry with minimal staff time at minimal cost with maximum results.
Connecting Young Adults to Catholic Parishes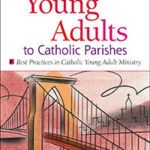 Connecting Young Adults to Catholic Parishes: Best Practices in Catholic Young Adult Ministry is a resource developed by the committee for Laity, Marriage, Family Life, and Youth of the United States Conference of Catholic Bishops. The Office of Evangelization has created a guide to help those ministering to young adults apply ideas from the USCCB resource to a military setting.
Word on Fire
Word On Fire Catholic Ministries is a nonprofit global media organization which supports Catholic preaching and reaches millions of people to draw them into or back to the Catholic faith. It is the hope of Word On Fire Catholic Ministries that this outreach will draw people into the body of Christ, which is the Church, and thereby give them access to all the gifts that Jesus wants His people to enjoy. Word On Fire Catholic Ministries places an emphasis and urgency on the use of contemporary forms of media and innovative communication technologies. Word on Fire Blog– The Word on Fire Blog is an online magazine supporting the evangelization work of Father Robert Barron and advancing the dialogue of the Faith, culture, and theology.
The Catholicism Series
Catholicism is a groundbreaking ten-part documentary series and study program about the Catholic Faith. This series seeks to explore, through a global journey, the living culture of the Catholic Church. Thanks to Word on Fire over 450 Catholicism DVDs and study packets were donated to the Archdiocese for the Military Services, USA in 2012.
Priest, Prophet, King
In 2015, 500 copies of the Priest, Prophet, King study program were donated by Word on Fire Ministries and were sent to priests in the Archdiocese for the Military Services, USA for use in military settings and VA Medical Centers. Check with your military Catholic priest to inquire about the availability of these resources.